Community Activities that Promote Relationships
Our residents have the opportunity to be active members of our community on a daily basis. Our aim is to provide a variety of engaging and interactive community programs to ensure our residents stay as active as they prefer each day. Check out our latest activities schedules for both our assisted living and memory care residents this month and featured activities held recently in our communities.
THIS MONTH'S ACTIVITIES
Elmore
Elmore – Assisted Living – August 2018 Activities Calendar
Elmore – Memory Care – August 2018 Activities Calendar
Nagel
Nagel Assisted Living & Memory Care – August Calendar – 2018
ACTIVITY OF THE WEEK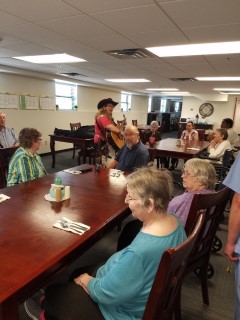 Singing Along with the Singing Cowgirl!
Our Nagel Assisted Living residents recently enjoyed live music, singing, and dancing with the Singing Cowgirl! Country Western favorites and requests from the audience were taken. One of our couples even enjoyed this dance to celebrate their 39th wedding anniversary! It was a wonderful time for everyone involved!