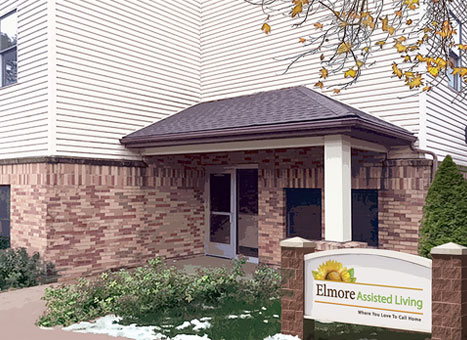 Take A Virtual Tour
Elmore Assisted Living & Memory Care is one of two locations of Sunflower Communities. Located in Elmore, MN—two hours south of Waconia, MN—residents can find a new home feeling connected to Elmore and the surrounding communities. Our pet-friendly facility offers modest housing to promote residents' independence and well-being. Live simply without sacrificing the quality of life. 
SEEDS OF SUCCESS™ MEMORY CARE PROGRAM
Caring for a family member or loved one with dementia can be challenging. As symptoms of memory loss, confusion, and even aggressive speech or actions escalate, family members find it increasingly difficult to offer the continuous care that their loved ones need to stay safe and comfortable. Sunflower Communities' SEEDS OF SUCCESS™ is an innovative new memory care program created to address these challenges & bring hope to loved ones and their families facing the realities of dementia and Alzheimer's Disease.
Sowing Seeds of Possibility – Our specially-trained caregivers, nurses, and occupational therapists can sow seeds of possibility every day in the lives of our residents.
Supporting Families of Residents – We assist family members in the struggles that come with their family member's needs using encouragement, understanding, education, expertise, and hands-on care.
Leading With Innovation – Finding new ways to handle symptoms of memory loss, confusion, and aggressive speech or actions that can escalate situations.
What Are the Segments of the Seven Petal Plan? 
Story — Everyone has a unique and important story to share. 
Structure — Structured daily programming provides comfort & a predictable routine.
Strengths — Focusing on individual strengths inspires people to live to the fullest regardless of where they are in their lives. 
Spirituality — Every resident is given the opportunity, if interested, to celebrate their spiritual journey regardless of their faith background or tradition. 
Safety — Our priority is the safety of each of our memory care residents.
Socialization — Daily social interaction, both formal & informal, improves behavioral health and outlook on life. 
Support — Providing needed psychological and clinical support regularly allows our residents to stay healthier from the inside out. 
Frequently Asked Questions
Our Elmore senior community features 6 neighborhoods, including memory care on 3 floors. So residents can get the proper levels of memory care they need, while living in a well-rounded community.  
We know that pets are family, and that's why Elmore proudly accepts dogs and cats in the community. Details and fee information can be found here.
We provide on-site primary care, occupational, speech, and physical therapy, care coordination services, and pharmacy services.