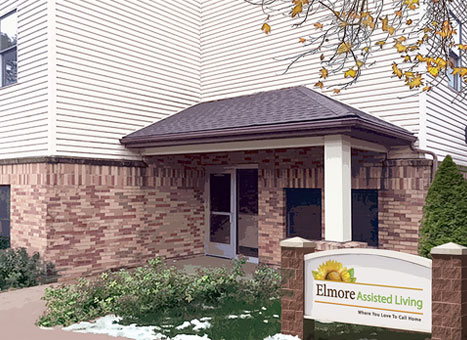 Take A Virtual Tour
Elmore Assisted Living & Memory Care is one of two locations of Sunflower Communities. Located in Elmore, MN—two hours south of Waconia, MN—residents can find a new home feeling connected to Elmore and the surrounding communities. Our pet-friendly facility offers modest housing to promote residents' independence and well-being. Live simply without sacrificing the quality of life. 
What to Expect With Sunflower Communities' Assisted Living
We know that making the transition to an assisted living community can feel overwhelming. That's why we've designed our process to be as stress-free and caring as possible. Whether you choose our Elmore or Waconia (Nagel) community, your loved one will get to remain rooted in the local community they love. Our enriching community living arrangements allow residents to easily connect and build meaningful relationships with each other. We accommodate this challenging transition by:
Only Providing Necessary Care – Your loved one won't be constantly bombarded by nurses and other staff members. We customize our care plans to bring our residents the exact care they need— no more and no less.
Remaining Involved in the Community – With regular community events and outings, our residents stay connected to their communities in Elmore and Waconia.
Private and Shared Spaces – While community-building and socialization are always available and encouraged in our shared community spaces, our residents also enjoy alone time in their personal single or companion rooms.
We Are Proudly Serving Minnesota, and the following Cities: Alexandria, Chaska, Rochester, Austin.
Activities for the Body and Mind
Throughout our lives, but especially as we grow older, community-building and mental stimulation are more important than ever. We combat loneliness in our communities by consistently offering engaging and interactive activities, programs, and outings to support our residents' mental and physical health. Between physical activities, social parties, and fun games, our residents enjoy better moods, improved cognitive abilities, and more restful sleep.
Frequently Asked Questions
Our Elmore senior community features 6 neighborhoods, including memory care on 3 floors. So residents can get the proper levels of memory care they need, while living in a well-rounded community.  
We know that pets are family, and that's why Elmore proudly accepts dogs and cats in the community. Details and fee information can be found here.
We provide on-site primary care, occupational, speech, and physical therapy, care coordination services, and pharmacy services.