Elmore Assisted Living & Memory Care
Welcome to Our Community
Elmore Assisted Living & Memory Care, founded in 2015, is an exciting addition to the town of Elmore, MN. Our focus is to provide modest, economical housing accommodations that promote independence and well-being, with support available when needed. Residents live simply while not sacrificing quality of life. As a member of our community, residents have the opportunity to:
Build Solid Relationships With Fellow Residents – Our community living arrangements will help our residents connect with neighbors quickly and build strong relationships that will enrich their lives.
Stay Connected to the Local Community – Through regular on-site community events and involvement, residents stay connected to the town of Elmore and surrounding communities.
Enjoy the Health Services Needed in the Comfort of Residents' Homes – From physical therapy to memory care, our residents have access to the assistance they need to continue to live life to the fullest.
Virtual Tour
Located in the picturesque farm country of Southern Minnesota, Elmore Assisted Living & Memory Care provides a peaceful setting for residents to call home. Featuring robust daily activities, delicious dining options, and supportive healthcare services, this growing community provides a great senior housing option for area residents and those looking to escape the hustle and bustle of the Twin Cities. Watch this Virtual Tour video to discover our community for yourself.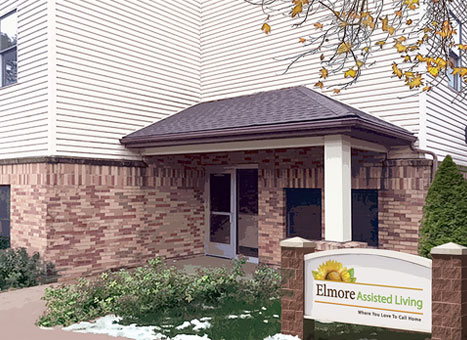 Proudly Accepting Residents on CADI & BI Waiver
Modest Accommodations, Enriched Connections
Elmore Assisted Living & Memory Care was established based on our COMMUNITY LIVING PHILOSOPHY.  We believe closer resident connections foster stronger, more vibrant communities. This philosophy can be seen through our: