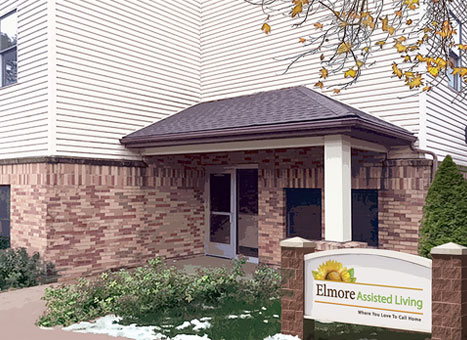 Take A Virtual Tour
Elmore Assisted Living & Memory Care is one of two locations of Sunflower Communities. Located in Elmore, MN—a quick 10 miles south of Blue Earth, MN—residents can feel connected to Elmore and the surrounding communities. Families don't have to drive far to visit, and our pet-friendly facility offers modest housing to promote independence and well-being. You'll live simply without sacrificing any quality of life. 
Assisted Living near Blue Earth with Great Programs & Amenities
Community Living Philosophy – Sunflower Communities offers both single and companion rooms, shared baths, and social community living rooms. 
Residents on CADI/EW – We are proud to accept residents on CADI and Elderly Waiver programs, as well as private pay residents. Simply call and ask us how to get started.
Furnishings Available – Each room includes a new television and any furniture needed (offered free of charge to CADI and EW residents).
Assisted Living near Blue Earth Offering Memory Care
Getting Primary Care – We're proud to partner with Twin Cities Physicians, who specialize in providing quality care to adults living in senior communities. Our residents don't even have to leave home for their appointments.
Therapy Services – On-site physical, occupational, and speech therapy allows residents recovering from an injury or requiring ongoing care to easily get the care they need. This is all thanks to partnering with Legacy Rehabilitation Group, a Twin Cities-based outpatient rehabilitation and pain management clinic.
Care Coordination Services – Complete Care Group is a local non-profit organization specializing in assisting residents living in senior communities. Thanks to our partnership, residents can rely on quality care coordination in our communities, whether they need durable medical equipment, labs, behavioral health services, or more.
Frequently Asked Questions
Yes! Our Elmore senior community features 6 neighborhoods, including memory care on 3 floors. So residents can get the proper levels of memory care they need, while living in a well-rounded community.  
We know that pets are family, and that's why Elmore proudly accepts dogs and cats in the community. Details and fee information can be found here.
In addition to primary care, therapy, and care coordination services, residents can also rely on our pharmacy services. Prescription medications can be delivered right to the community, so they never have to take a trip to the pharmacy.