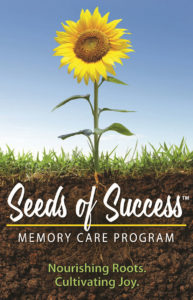 Caring for a family member or loved one with dementia can be challenging. As symptoms of memory loss, confusion, and even aggressive speech or actions escalate, family members find it increasingly difficult to offer the continuous care that their loved ones need to stay safe and comfortable. Sunflower Communities' SEEDS OF SUCCESS™ is an innovative new memory care program created to address these challenges & bring hope to loved ones and their families facing the realities of dementia and Alzheimer's Disease.
It All Starts with a Handful of Seeds
Our SEEDS OF SUCCESS™ MEMORY CARE PROGRAM was developed with the philosophy that our specially-trained caregivers, nurses, and occupational therapists can sow seeds of possibility and hope every day in the lives of our residents and their families through:
Encouragement
Understanding
Education
Expertise
Hands-On Care
We believe that if these seeds are continually sown, something beautiful can bloom in the lives of our memory care residents and their families.