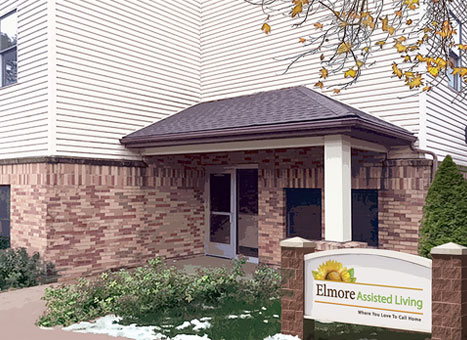 Take A Virtual Tour
Elmore Assisted Living & Memory Care is one of two locations of Sunflower Communities. Located in Elmore, MN, residents can find a new home feeling connected to Elmore and the surrounding communities. Our pet-friendly facility offers modest housing to promote residents' independence and well-being. Live simply without sacrificing the quality of life. 
Community Living – Companion bedroom options are available to those who would prefer the company of other individuals. Our community bathrooms offer an opportunity for oversight and provide enhanced safety for each of our residents.
​Stay Connected to the Local Community – We make it a priority for residents to stay connected to Elmore and its surrounding communities.​
Furnishings Available – In addition to a new television in every room, we also provide any necessary furniture (offered free of charge to CADI and EW residents).
Important Senior Living Community Amenities 
Getting Primary Care – We proudly partner with Twin Cities Physicians, who specialize in providing quality care to senior adults living in our communities. Our residents never have to leave home for their health appointments.
Therapy Services – On-site physical, occupational, and speech therapy allows residents recovering from an injury or requiring ongoing care to get the care they need easily. All thanks to our partner Legacy Rehabilitation Group, a Twin Cities-based outpatient rehabilitation and pain management clinic.
Care Coordination Services – Complete Care Group is a local non-profit organization specializing in assisting residents living in senior communities. Thanks to our partnership, residents can rely on quality care coordination in our communities, whether they need durable medical equipment, labs, behavioral health services, or more.
Frequently Asked Questions
We believe community-based senior living creates a place that encourages closer connections, fosters stronger relationships, and promotes a more vibrant way of life for each of our residents. 
We know that pets are family, and that's why Elmore proudly accepts dogs and cats in the community. Details and fee information can be found here.
Our residents have the opportunity to be active members of our community on a daily basis. Our aim is to provide a variety of engaging and interactive community programs to ensure our residents stay as active as they prefer each day. All our residents will receive a calendar of daily events each month.