A time may come when your aging loved one will need to move to a more supportive environment, such as an assisted living community. These types of communities are often the best way to ensure that your loved one is able to enter this next chapter in their lives with access to quality care and more importantly, the necessary supervision.
The question is which types of assisted living communities are out there and which is right for your loved one and their specific needs? 
Below we'll cover eight types of assisted living options and what they cater to.
When Is the Right Time to Think About Assisted Living For Your Loved One?
Often the hardest part about choosing the right type of assisting living community for a loved one is knowing when it's the right time. 
A few signs that it could be time to start looking at the various types of assisting living communities are:
You notice that your loved one is having more frequent accidents, such as slips and falls, and you're worried about their safety

They're forgetting to take their medications or refill their prescriptions. This can be risky, especially if they have a complex medication regimen

They're living with chronic pain due to certain conditions and have a hard time getting around on their own

You notice that they're not keeping up with their personal hygiene or other daily personal tasks

They've been diagnosed with Alzheimer's disease or dementia. These conditions will progress, rendering it unsafe for your loved one to live at home and even among family
Choosing to transition your loved one into an assisted living community isn't an easy decision. However, these communities have come a long way from being a "typical nursing home" as they provide tons of enjoyable amenities, fun activities, and much more. 
8 Types of Assisted Living Options for Aging Adults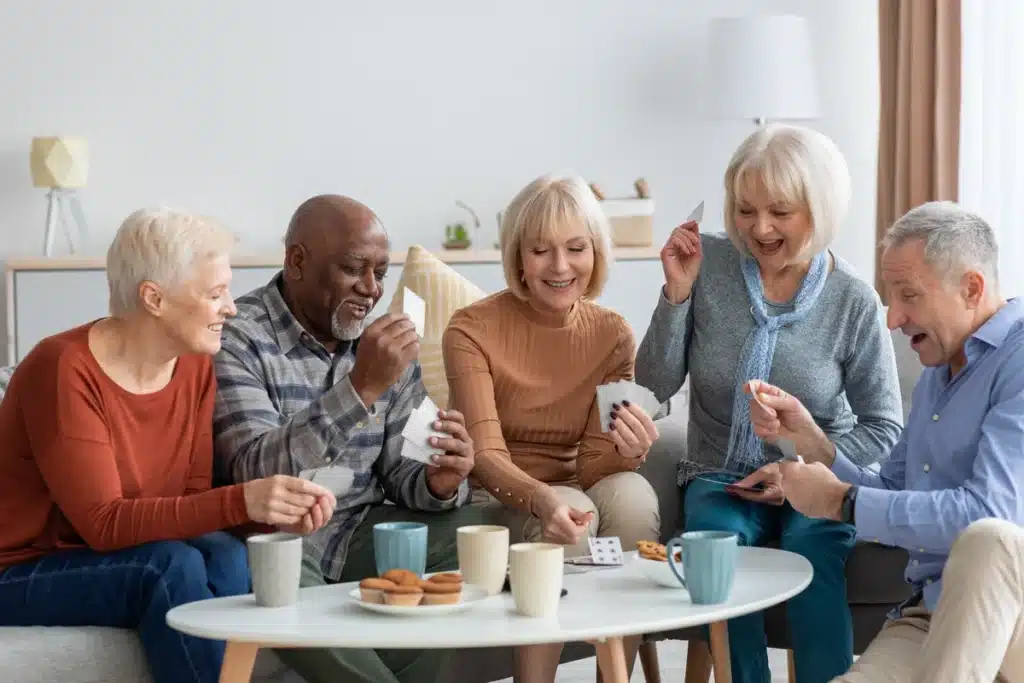 Every senior will have different needs and requirements depending on their personal circumstances. 
For example, some require support with their activities of daily living (ADLs) like getting dressed and keeping up with doctors appointments. Others may simply want to sell their home and live in a community that offers basic services like housekeeping and the company of other people their age.
Let's explore the different types of assisted living communities:
1. Independent Living Communities
Independent living communities are designed for aging seniors that would prefer to reap the benefits of living in a community while maintaining their freedom. 
These types of communities offer basic services, including dining options and housekeeping. They also come in several different forms, such as 55+ apartments, subsidized senior housing, continuing care retirement communities, and so on.
2. Residential Care Homes
Residential care homes offer a certain level of independence while providing assistance with daily activities. You can think of them as part-time care assistance communities, as they help seniors with everything from transportation to medication distribution to make life easier.
3. Respite Services
If you're the primary caregiver for a loved one but need a little extra help when you can't be there, respite services may be the solution. Respite services provide professional care assistance whenever needed to help your loved one with their daily activities and needs when you can't.
It should be noted that respite services don't take part in an assisted living community, but instead wherever your loved one lives. 
4. Assisted Living Communities
Assisted living communities are places that balance independent living and skilled nursing care. These communities are the perfect options for those who may need extra support — such as an on-call staff of trained professionals.
Assisted living communities also offer:
Chefs and meal plan options

Scheduled activities

Amenities

Social opportunities 

Various therapies

Specialized care 
Assisted living communities are arguably the most popular option among aging adults that require more support and supervision but can still manage most daily activities independently.
5. Memory Care Facilities

Memory care facilities are specialized assisted living communities. They cater to a safe and secure environment for those that are suffering from dementia as they offer 24-hour structured care and supervision to keep your loved one safe.
Memory care facilities are designed to provide more stability and structure to offer residents an overall better quality of life. The staff at these facilities are specially trained, making these facilities the best place for aging adults with declining cognitive health.
6. Skilled Nursing Homes
Skilled nursing homes are unique care facilities in that they provide 24-hour medical care. They're equipped with an in-house staff of trained nurses, doctors, and other medical practitioners, which enables them to provide a high level of assistance for those with various medical conditions.
7. Retirement Communities
Retirement communities are a lot like independent living communities as they come in various styles, such as active and leisure communities. 
Retirement communities allow residents full autonomy, although some offer assistance options depending on the type of retirement community. They also typically offer premium amenities and have a focus on social areas as most residents are looking for a more leisurely lifestyle as they enter into their golden years after retirement.
8. Continuing Care Retirement Communities
Continuing care retirement communities (CCRCs) are retirement communities that offer seniors a full suite of lifestyle and health care options right on campus. The offerings vary based on the CCRC, meaning that their services are either all-inclusive or a la carte so residents can pick and choose what they need.
Which Type of Community Is Right for Your Loved One?
Every aging adult has different needs. Many make the choice on their own to enter a retirement or independent living community, while others' loved ones have to make the decision for them.
The most important thing you can do when choosing an assisted living community for your loved one is to assess their needs and what each facility has to offer. If you're unsure of which community will be right for your loved one, the professionals at Sunflower Communities can guide you through your options. 
Contact us today to learn more about our assisted living communities and our philosophy on senior care.