Memory care communities are ideal when you or your family require additional care for dementia or Alzheimer's diagnosis. These memory care facilities offer amenities and treatment that many assisted living, or nursing homes simply can't offer. But when the time comes to find a memory care place, it can be hard to find the right memory care community for you or your loved one. But we can help.
While you can tour many facilities, finding the right place requires asking pertinent questions, meeting staff members, and going over all the place has to offer. So here's a helpful list of what to look for in a memory care facility.
What Is Memory Care?
The first question is: what exactly is memory care? Memory care facilities provide constant supervision and assistance for those with cognitive impairments. This can include 24-hour nursing care, scheduled activities, and other support services.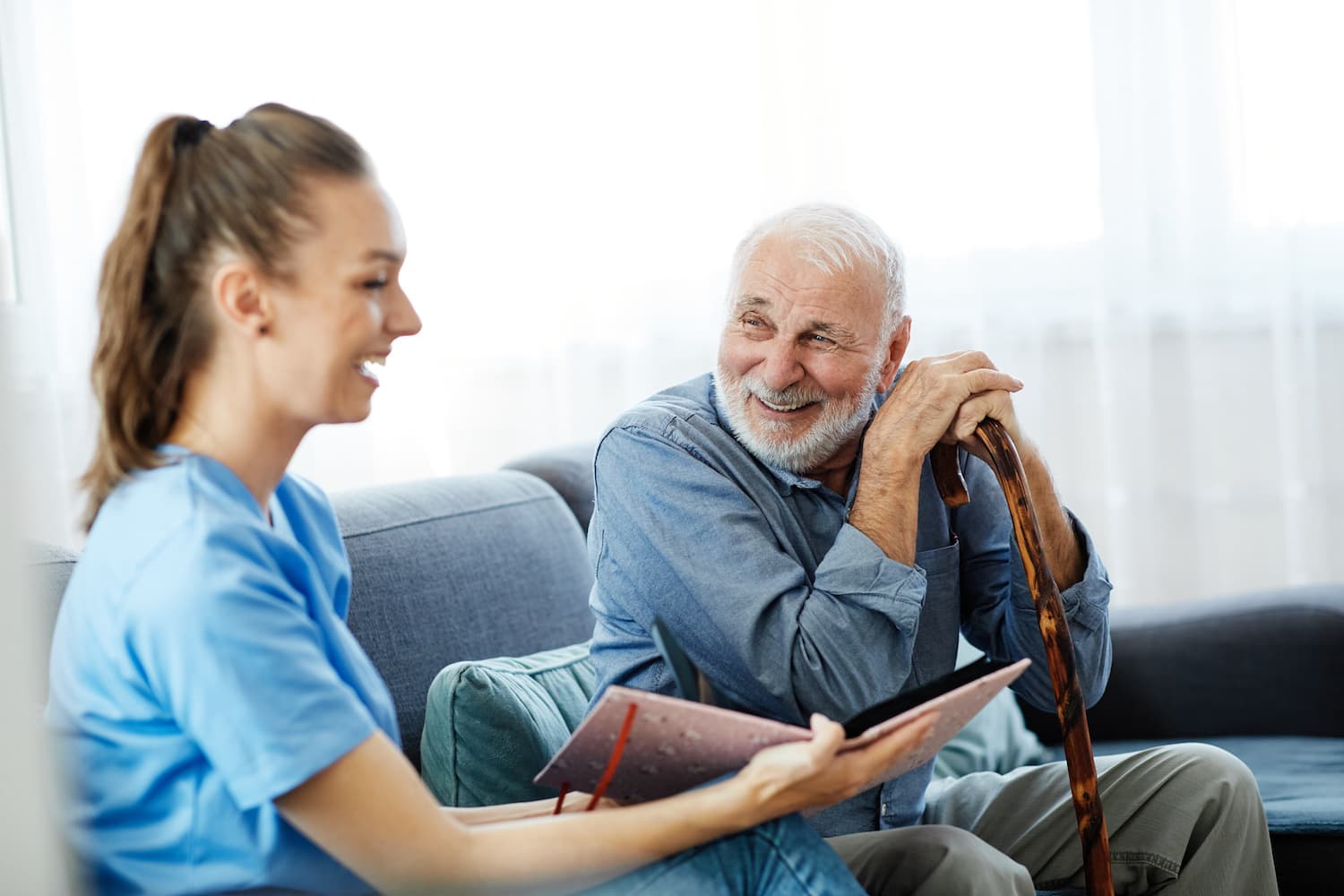 These communities are designed to create a safe and secure environment while promoting socialization and engagement. Amenities you might find in a memory care unit include:
Round-the-clock care
Specialized memory care staff
Transportation to appointments
Personalized care plans
One on one therapy (physical and mental)
Daily activities
Nutritious meal plans
Daily housekeeping and grooming
A safe living environment
Socializing activities and games
Memory care facilities will likely be where your loved ones will be until they move to long-term or hospice care. So it needs to be good. Not only does it need to fulfill their treatment needs, but it makes it easy for the family and their budget. So there are some surefire things you'll want to consider when looking for the perfect place.
What to Look For in a Memory Care Facility
The best memory care facilities will offer a wide variety of services and amenities, but they'll also be the perfect size for your loved one. Here are some other factors to keep in mind:
The Cost of Care
The average cost of memory care in the United States is almost $6,500 per month. Especially since it's more than assisted living which costs around $4,500/month, but it costs less than the average nursing home, which can be over $10,000 per month. Ouch!
Of course, you are paying for things like memory care only partially out of pocket. Insurance, elderly waivers, brain injury waivers, and Medicare can all contribute to the monthly costs of memory care. But you still want to ensure the facility you choose can cater to your budget, insurance, and other financial needs. This is very important.
Specialized in Dementia and Alzheimer's Care
You would assume that a place calling itself a memory care facility would have staff trained in handling Alzheimer's specifically, but this may not always be the case. If you want to ensure you or your loved one gets the dedicated memory care specific to their disease and symptoms, you will want to be sure there is staff that knows exactly how to handle someone with dementia or Alzheimer's. These diseases come with unique challenges that differ significantly from just someone in a nursing home with basic needs.
Patient-to-Staff Ratio
Whether you like it or not, the reality is that nursing homes and long-term care facilities are often grossly understaffed. Whether due to the long hours with lesser pay, or other issues like working conditions, there are many reasons why this has become a rampant problem. So finding a place with a proper staff-to-patient ratio is vital for getting the best care possible.
Ideally, there is a 1:1 ratio of staff to patients in critical care areas, or at least 1:2. In less critical areas, a place with a 1:4 nurse-to-patient ratio can allow for a few hours dedicated per patient per day to get the proper care they need. This is doable. Anything higher than those can negatively impact the quality of care received and the frequency of care received.
Quality of Care
In line with staff ratios, you want to be mindful of the quality of care received at a facility. Is there on-site medical staff? Are there state-of-the-art facilities with the technology and training to handle modern treatments for dementia and Alzheimer's patients?
The best way to understand the quality of care is to visit the facility and see how it operates. Are staff attentive and taking care of patients, or are they too busy? Do the patients look well cared for?
You can also request information about their policies and procedures and employee training. This should give you a pretty good idea of how they operate on a day-to-day basis and if they are genuinely providing quality care or not.

A Safe and Secure Facility
This is absolutely critical. One of the main reasons people with dementia or Alzheimer's are placed in memory care is for their safety and security. So you want to make sure the facility you choose takes this seriously and has the appropriate measures in place.
Some things to look for include: 
Security cameras
Alarms
A secure perimeter
A check-in/check-out process for visitors
You also want to ensure staff is adequately trained in handling wandering patients or those who may become agitated or violent.
This one should go without saying, but it is crucial to ensure the facility you choose is clean. This means the common areas, living quarters, and bathrooms. A clean environment is crucial for preventing the spread of infection, which can be deadly for elderly patients. You can get a pretty good idea of how clean a place is by taking a tour and looking around. If you see any red flags, it is probably best to move on.
What Amenities Do They Offer?
When you begin searching for a memory care facility, you will likely come across a wide range of options, each offering unique amenities. Choosing a place based on the amenities they offer can be tempting, but it is important to remember that these should be something other than your top priority. That being said, some amenities can make a difference in the quality of life for your loved one, so it is worth considering what each facility has to offer.
Some things to look for include the following:
A variety of activities and social events
Beautiful outdoor spaces
Comfortable living quarters
A kitchen and dining area
On-site salon, entertainment, etc.
A calendar of events
Is Location Convenient
Whether you expect to visit often or just want to be close by, will you be able to move your loved one to a good memory care place without much disruption to their lives— and your own? A convenient location can be a deal breaker for many people. If it's too far away, it can make it difficult to visit or get them to their primary physician, etc.

Questions to Ask the Staff Members
When you tour a facility, of course, you'll want to consider all of the above we've discussed, but you should also ask some critical questions to the on-site staff. Your tour or consultation may be your one chance to get those vital questions answered before making a move and signing on the dotted line. We suggest asking the following questions:
Do you have a staffed Medical Director?
Are there RNs or LPNs? Are they on-site 24/7?
What medical services are available (on or off-site)?
What types of training or certifications does the staff have? 
What is the policy for medical emergencies? Does the staff go with them to the ER?
Do you have Semi-Private and Private rooms?
Do you offer end-of-life care? Or do residents transfer elsewhere?
Can my loved one receive outside rehab but keep their place in the facility?
What types of care do you not provide?
What is your visitation policy?
What is the discharge policy?
Are amenities all-inclusive, or do some cost extra?
What happens if my loved one is or becomes non-ambulatory?
What are the day-to-day activities like?
Do you charge for outside activities like field trips?
Finding the Right Memory Care Community
Ultimately, finding a suitable memory care facility goes beyond just one that's nearby and fits the budget. Your loved one's health depends on finding a place that treats them well, offers the care services they specifically need, and allows the family to visit and enjoy the facility with them. So when that day comes, why not choose Sunflower Communities?
Our beautiful facilities and highly-trained staff are ready to provide you or your loved ones with superb memory care and the amenities that will allow them to thrive. Contact us today if you're interested in touring one of our senior communities!