People with Alzheimer's disease inevitably need round-the-clock care as their disease progresses. Nursing homes and memory care facilities are two of the main options for them to get superb care devoted to their specific needs. However, what exactly is the difference between the two?
When it comes to nursing homes vs. memory care facilities, residents get very different things from each, including:
Amount of hands-on care
Type of care or therapies
On-site medical staff members
This guide will pinpoint the key differences between nursing homes and memory care and when each is appropriate for you or your loved ones to receive the best possible care.
What is a Nursing Home?
A nursing home is a care facility that provides 24-hour medical and non-medical care to people with physical or mental disabilities. It can also be a good choice for those who are aging and need more help managing activities of daily living (ADLs), such as;
eating
dressing
bathing
general mobility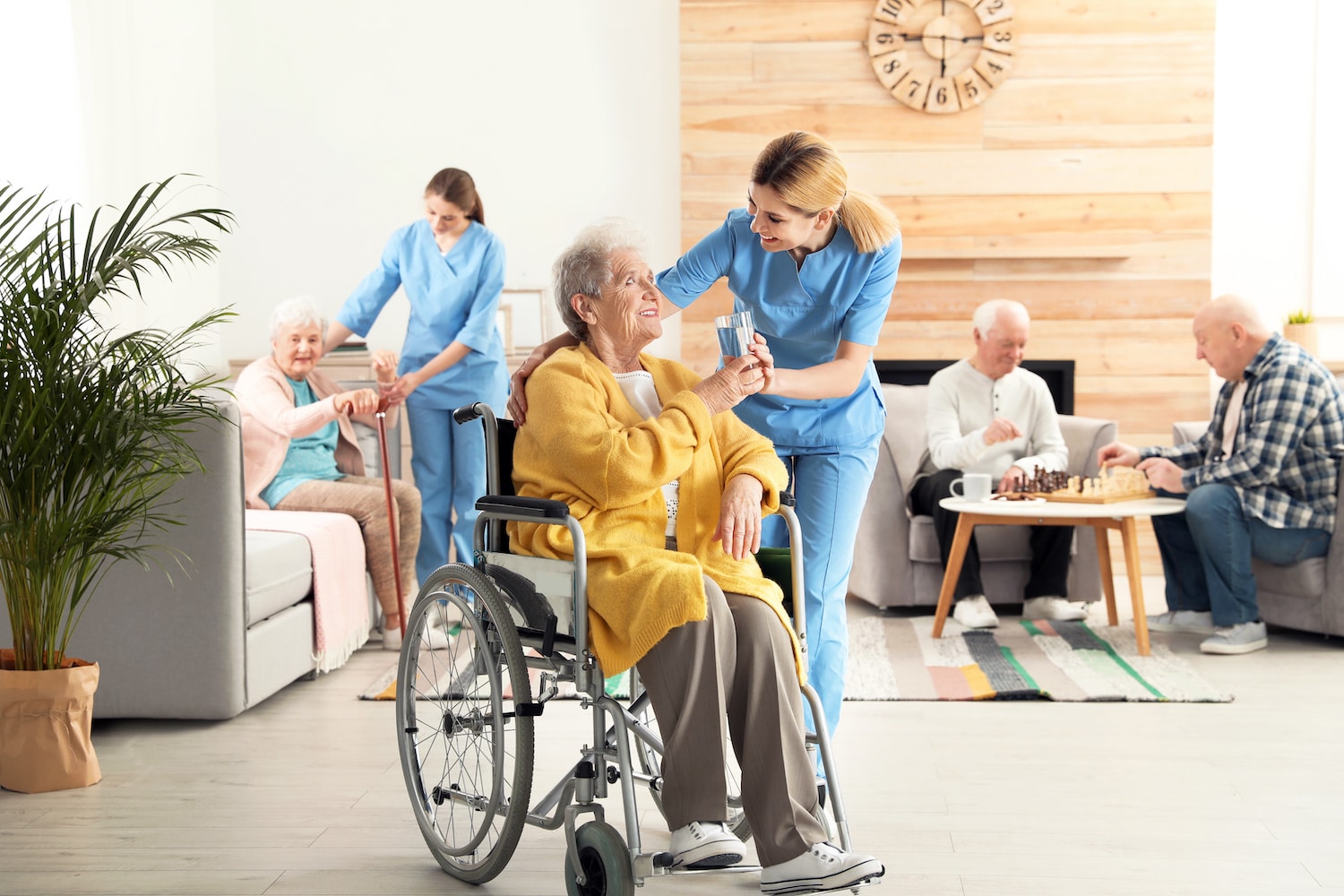 Nursing homes offer residents access to medical care, physical therapy, occupational therapy, and social activities. In addition to providing the necessary medical attention and assistance with ADLs, many nursing homes also offer recreational activities and outings.
Pros and Cons of Nursing Homes
While nursing homes have their major perks for elderly people or those with early stages of Alzheimer's disease or dementia, they still come with their fair share of downfalls or deal breakers depending on the care you need.
✅Pros of Nursing Homes
24-hour medical care
On-site physical and occupational therapy
Access to social activities
Variety of recreational programs
❌Cons of Nursing Homes
May not have enough personalized care
More expensive than memory care
Less supervision and structure
What Does Memory Care Entail?
Memory care is a specialized type of senior care that focuses on providing residents with Alzheimer's and other forms of dementia with around-the-clock monitoring and supervision. In memory care, residents can receive help with a number of things, such as;
ADLs
medical attention
medication management
social activities
and more.
Memory care facilities usually offer a variety of therapies to help the resident with dementia, including music, art, and even pet therapy. Memory care also provides a secure environment for those who may wander or be a safety risk to themselves.
Pros and Cons of Memory Care Communities
Memory care may be included within a nursing home or senior community, or it may have its own facility— either way, it's vital to the care of those with dementia in their older years or late-stage Alzheimer's disease. Though very helpful to specifically treat memory care issues, it's not a perfect system, and some memory care facilities may come with their fair share of cons juxtaposed to their pros.
✅Pros of Memory Care
More personalized care
Numerous therapies and activities
Enhanced safety measures
Less expensive than nursing homes
❌Cons of Memory Care
May not be able to accommodate all medical needs
More structured environment
Less freedom for residents

Other Types of Senior Living Communities
If you or someone you know isn't sure if a nursing home or memory care is the right fit, there are other senior living communities available. These types of communities may be more appropriate for those seeking care but wanting more independence and freedom.
Assisted Living
Assisted living facilities provide seniors with help with some daily activities, such as;
personal care
dressing
medication management
housekeeping
Unlike nursing homes or memory care, assisted living communities give those in need the freedom to come and go as they please and offer more social activities and recreational outings.
Senior Communities
Senior communities like Sunflower Communities give seniors the chance to age in place with services tailored to their specific needs. These communities offer a variety of amenities and programs that help residents stay active, independent, and engaged in their community. They occasionally have on-site gyms, pools, cafes, and more.
Senior Cooperatives
Senior co-ops are like retirement communities where the residents have something similar to an HOA (homeowners association). While they own their homes, condos, or apartments within the complex, they can pay a monthly fee that pays for things like lawn care, maintenance, and other assistance that they don't have to worry about as older adults in their retirement age.
Independent Living
Independent living communities are similar to senior co-ops, but they don't come with an HOA or monthly fees. These communities are also sometimes referred to as retirement homes, and they give seniors the freedom to live in their own apartment homes without having to worry about maintenance, housekeeping, transportation, or other daily tasks.
At-Home Care
Lastly, at-home care is another viable option for seniors looking to age in place. This type of care can be quite costly but does allow individuals to remain in the comfort of their own homes with help from nursing staff, medical professionals, and other caregivers.
No matter what type of senior living you choose for your loved one or yourself, make sure to research options thoroughly and consult a health care provider to get the best care possible.

Nursing Home Versus Memory Care: 6 Key Differences
Now that you know the pros and cons and an overarching view of nursing homes and memory care on their own, let's get into their stark differences that are key decision factors when choosing a facility.
1) The Amount of Hands-On Care 🧑‍⚕️
Nursing homes are typically equipped to handle a wide variety of medical issues, while memory care is designed to help those with dementia and Alzheimer's. Memory care facilities offer more personalized attention and may be able to provide more one-on-one care than nursing homes.
2) Level of Focus on Dementia Care 🧠
Nursing homes focus on providing medical care and social activities to their residents. Memory care, however, is specifically designed for those with dementia or Alzheimer's disease and provides programs that are tailored to helping them retain memory and remain as independent as possible.
3) The Cost 💰
When it comes to cost, memory care is typically more expensive than nursing homes due to the extra staff and specialized programs. The national median cost of memory care is around $65,000 per year. Meanwhile nursing homes cost much, much more with a median annual cost closer to $95,000.
4) Activities and Amenities 🃏
Nursing homes and memory care facilities both offer activities, programs, and amenities to keep their residents engaged. However, due to their different focuses, the types of activities may vary from one facility to another. Nursing homes typically have more traditional programs such as bingo night or card games while memory care facilities often provide activities that are specifically tailored to dementia or Alzheimer's patients.
5) Who it's For 🧓
Nursing homes are designed to provide short-term or long-term care for those who need more medical attention than what they can get at home. Memory care facilities, on the other hand, are specifically designed for those with dementia and Alzheimer's who require more specialized care and activities.
6) Level of Security 🔐
In people with dementia, wandering is a big risk factor, which is when residents literally wander away from home or familiar places, getting lost and leaving them very vulnerable. To keep patients from leaving in a confused state, memory care facilities have doors with special locks to prevent wandering. When compared with nursing homes, residents experience greater freedom within the residence, but less so outside the residence.
Choosing the Best for Your Alzheimer's Care
Deciding between a nursing home and memory care unit for your loved one is an extremely personal decision that should be made after conducting research, speaking with health professionals, and considering finances.
No matter what you decide, the most important thing to remember is that your loved one's care should come first. Make sure to ask lots of questions and visit facilities both in person and virtually to ensure that you're making the best decision possible.
To make things easier for you, consider talking with the professional staff at Sunflower Communities. We can walk you through a tour of our senior community, answer all of your questions, and help you make the absolute best decision for care. Schedule an appointment today!