Looking for a long-term care solution for an aging loved one can be challenging. Senior living communities vary greatly when it comes to levels of care, staff training, amenities, and cost. What's more, many aging adults who require long-term care often have some form of cognitive decline or memory loss, which can make choosing among senior living communities that much more difficult.
Ultimately, your choice will come down to two types of senior living communities: Memory care and assisted living. While they may sound similar, there are several key differences between the two, all of which will directly affect your loved one's quality of life and the care they receive. 
In this article, we'll break down the five key differences between memory care vs assisted living to ensure that you make the right choice for your loved one.
Memory Care Vs. Assisted Living: Understanding the Difference
Both memory care and assisted living communities offer many of the same services. This includes:
Housing
Meals
Help with activities of daily living (ADLs) like bathing, grooming, using the toilet, etc
Organized activities
However, when it comes to memory care vs assisted living, the most important thing to remember is that memory care communities specialize in caring for aging adults experiencing a continuous cognitive decline. This means they cater to those with significant memory loss, Alzheimer's disease, and other forms of dementia, whereas assisted living communities do not.
To expand on that, here are the five key differences between memory care communities and assisted living communities:
1. Safety Measures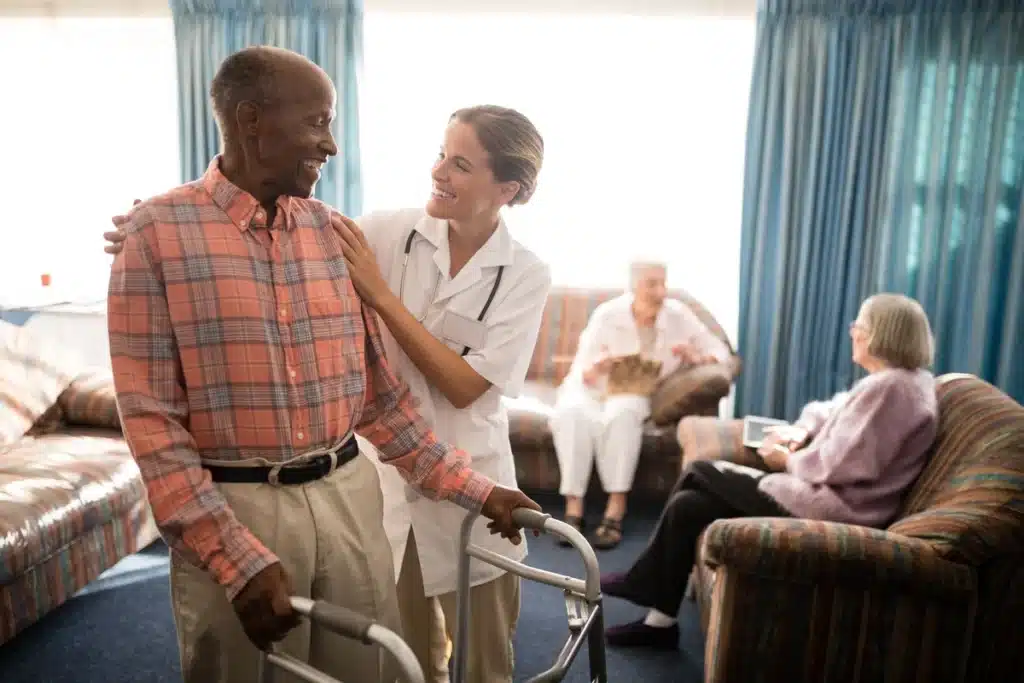 Assisted living communities typically have certain safety protocols, such as in-room emergency alert systems and regular check-ins. However, dangerous events such as wandering, aggression, and falling are major safety concerns in aging adults with progressive neurodegenerative conditions.
Therefore, memory care communities implement environmental security features into their overall design to keep your loved one safe. These features typically include:
Locked exits and entrances
Keypad entries
Concealed exits
Doorbells that alert staff of entering and exiting
Design elements that minimize confusion to prevent falls and injuries from falls
What's more, memory care communities provide calming therapies to reduce agitation as well as confusion that can trigger aggression and lead to injury.
2. Staff Training and Support
The staff members in both assisted living and memory care communities are trained to care for aging adults and support them with their ADLs. However, only memory care communities have staff that is specially trained to provide 24-hour and person-centered care. 
This care allows them to both manage individuals with declining cognitive function and help them maintain their cognitive skills, sense of self, and quality of life. It also revolves around developing effective care plans tailored to each individual's needs based on their condition and with compassion.
There's also usually a much higher staff-to-resident ratio for memory care compared to other types of senior care communities to ensure that individuals receive the attention they need and deserve each day.
3. Amenities
The amenities offered in each senior living community will vary based on what that community is able to provide. Generally speaking, assisted living communities offer:
Fitness centers and organized activities
Beauty salons/barber shops 
Courtyards, gardens, pools, and other outdoor spaces
Accommodations for pets
Transportation services
Libraries
Game rooms
An arts and crafts studio
Spas 
Memory care communities offer most of the above amenities; however, their layouts are designed to care towards resident orientation to minimize confusion. For example, memory care communities typically incorporate the following design elements:
Color-coded walls to help those with memory loss navigate the community easier
Well-defined common areas
Outdoor spaces or gardens that prevent feelings of confinement
Options for personalization, such as memory boxes or signs on residents' doors to help them feel more at home and to guide them as they come and go
4. Activities and Therapies
Assisted living communities organize activities for active aging adults to provide more social opportunities. These activities include everything from exercise classes to outings, book clubs, games, and more. 
Memory care communities offer both individual and group activities that are centered around memory care activities. Ultimately, the goal is to provide opportunities to socialize that help maintain cognitive skills. The scheduling of these activities also revolves around providing a sense of comfort through a routine to avoid triggering aggression and confusion.
Memory care communities also offer specialized therapies that are aimed at promoting relaxation, slowing down cognitive decline, and more, such as:
Music therapy
Art therapy
Reminiscence therapy 
Pet therapy
5. The Costs
There are several factors that determine the cost of senior community living care, such as room size and whether or not that room is shared, location, services provided, amenities, and so on. These costs are also calculated differently based on the type of care.
Assisted living communities essentially start out with a base rate that's charged monthly. This rate covers:
Room and board
Meals
Most activities 
Housekeeping
Transportation services
Support for ADLs typically comes at an additional charge and varies based on what each resident requires.
Memory care communities also charge a monthly base rate that covers:
Accommodations
Meals
Medical supervision
Staff supervision
Personal assistance with ADLs
This rate will vary as it depends on the level of services needed as well as the community's location. It should also be noted that because memory care requires more specialized skills and supervision, it tends to cost more than assisted living communities.
How to Choose the Right Type of Care
The best way to determine which type of community is best for your loved one is to pay attention to their cognitive function. If memory loss is not an immediate concern and they're relatively independent, then assisted living is likely the right choice.
However, if they're exhibiting signs of cognitive decline, such as becoming confused often, misplacing things, forgetting to take medications, becoming withdrawn, and so on, then memory care will be a much better fit.
Sunflower Communities offers both memory care and assisted living, so your aging loved one can get the best possible care at every stage of their life. Contact us today to learn more about our communities and specialized services.