Whether you're starting the conversation of assisted living with a loved one or you yourself are interested in assisted living services, it's no secret that making a big change like this can be stressful, overwhelming, and maybe even scary.
You need to feel confident that you or your loved one will be safe, respected, and properly cared for. Unfortunately, there are stories each year about neglectful assisted living facilities, so we're here to help you learn about what you have every right to expect at a safe and respectable assisted living community. These communities should provide:
On-site health services 🩺

Regular exercise options 🧘‍♀️

Nutritional meals 🥑
And much, much more. Take a closer look at our list so that you can cross-check the assisted living communities you tour.
8 Things to Expect From High-Quality Assisted Living Services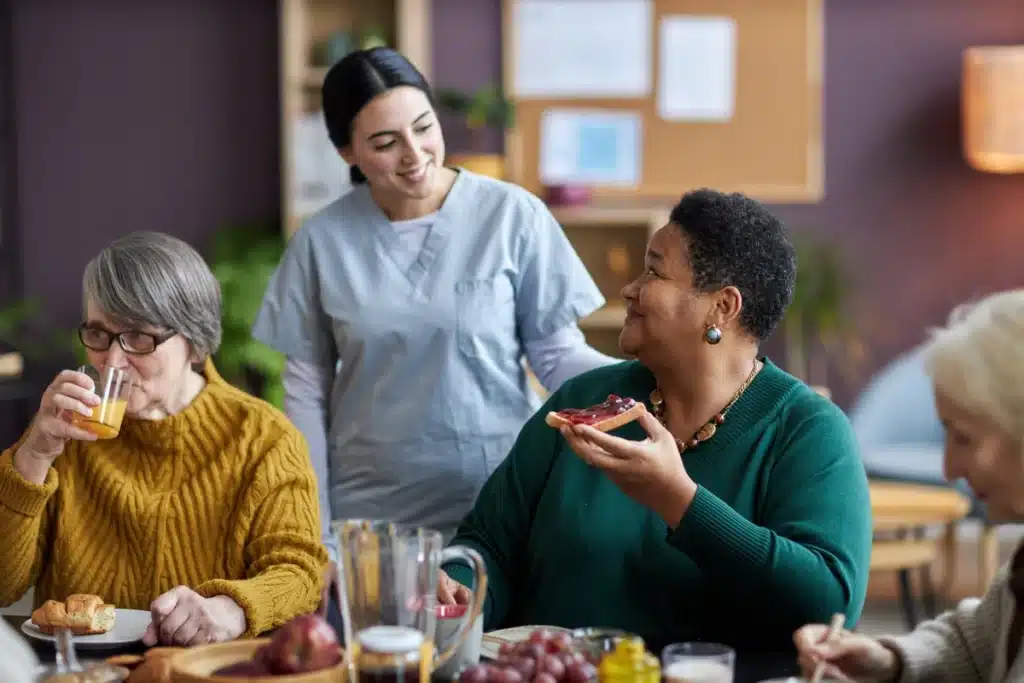 Considering that assisted living is meant to help you or your loved one age gracefully with accessible access to the care they need, you should absolutely be strict about the quality of assisted living community you ultimately choose. You don't want to choose just any community— it's vital for your loved one to be safe, enriched, and comfortable in the community they end up in.
As you tour assisted living communities in your area, be sure they meet these 8 qualifications:
1) Licensed Facility
Each state has its own laws regarding facility licensure, but here in Minnesota, it's required for assisted living providers to be licensed. This requirement means that the state government stays involved to ensure assisted living communities are following laws and regulations.
Ask the facility to show proof of their licensure. In states where licensure isn't required, a facility that gets licensed anyway demonstrates that they're going above and beyond to meet safety standards.
2) Safety Comes First
An assisted living community is only as good as its staff. As you tour, ask the following questions about staffing:
What is your staff turnover like? Is it frequent or rare?

What training process does the staff go through?

Do other residents and volunteers speak highly about the staff?
It's always heartbreaking to hear about an assisted living community that engaged in neglect against its residents. While most assisted living facilities are safe and comfortable environments, you can never be too careful. Make sure there aren't any lawsuits against the community or any negative stories in the news. You can also read online reviews and ask for references.
3) On-Site Health Services
Generally, having on-demand health services is one of the biggest benefits of transitioning to assisted living. You should expect that the assisted living community you choose has a range of accessible health services directly on campus. These should include:
Rehabilitation services (such as physical and speech therapy)

Medication management & pharmacy

Primary care doctor's appointments (either on-site or with provided transportation)

Behavioral health services (such as mental health therapy)
Ideally, the assisted living community offers customizable levels of care so that your loved one isn't getting too much or too little intervention.
4) Enriching Activities
It's been proven time and time again that socialization is incredibly important at every stage of life, especially as we age. Social activities and brain enrichment help stave off loneliness, depression, and anxiety. A better mood = more restful sleep, improved cognitive function, and a longer, happier life!
You should expect the assisted living facility you choose to have frequent planned activities across a variety of categories. We're talking about multiple activities per day, not just one or two a week!
Some examples of enriching assisted living activities can include:
Music performances

Arts & crafts

Gardening

Cooking & baking classes

Off-campus trips

Book clubs

Pet therapy

Movies & discussion

Birthday & holiday parties

Card & board games
5) Variety of Exercise Options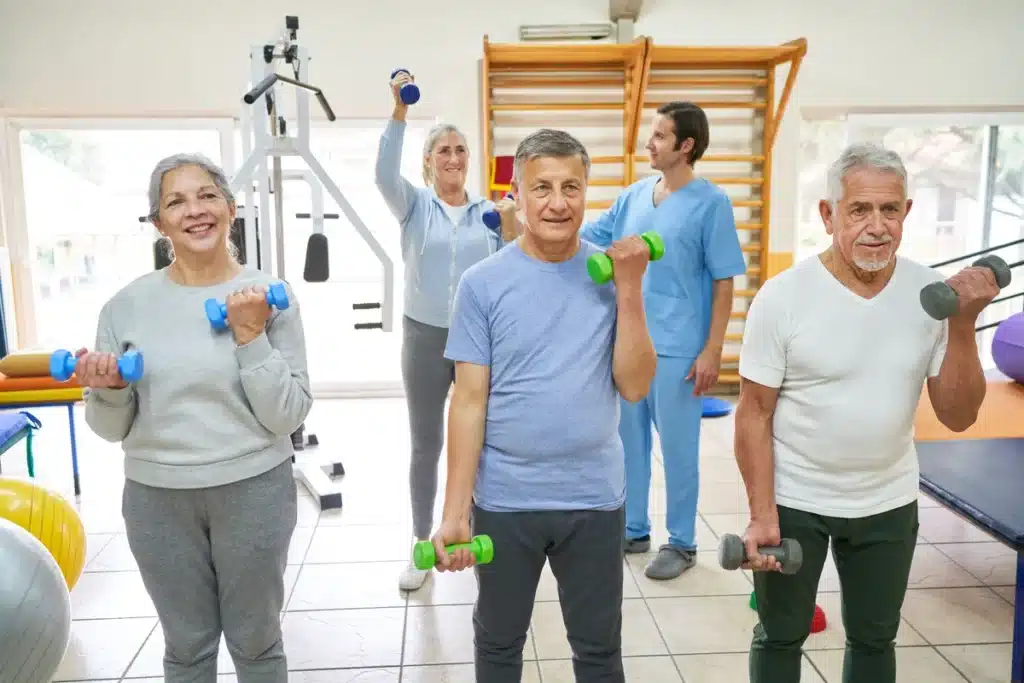 The National Institute on Aging recommends that all adults partake in a minimum of 2.5 hours of aerobic exercise a week, and 2 days each week should include muscle-strengthing exercise. It's incredibly important to get a variety of all four types of exercise:
Endurance

Flexibility

Balance

Strength
The assisted living community you choose should offer a variety of exercise classes that cover all four of these categories. The benefits of staying active as we age are crystal clear. Your loved one will sleep better, reduce their stress, help control their blood pressure, and manage other diseases like heart disease or type 2 diabetes. And that's just scratching the surface!
6) Well-Balanced Meals
The food we consume plays a huge part in our overall health. High-quality assisted living facilities offer chef-curated nutritious meals and snacks every day. When touring communities, make sure the meal options are made with natural ingredients and are well-balanced across the food pyramid.
Beyond healthy meals, everyone should also have the opportunity to eat in a community setting. Joining friends and acquaintances for a meal has wonderful social benefits.
7) Personal Care Assistance
Everyone loves to be pampered, but personal care services are a requirement, not a "nice-to-have." In an assisted living setting, personal care goes beyond spa days and includes help with activities of daily living, including dressing, bathing, grooming, and laundry. Your loved one should have easy access to the personal care services they need so that they can continue to feel dignified each day.
8) Home-Like Living Arrangements
Leaving your home to transition into assisted living comes with many emotions. It's important for the assisted living facility you choose to feel like home. (Keep in mind that there's almost always a transitional period, but the environments should feel comfortable and cozy.) The community should allow you to bring items and decorations from your previous home, and they should have a welcoming visitor policy for family members.
One of the best perks you can look for is a pet-friendly community. If your loved one can bring their cherished cat or dog to their new home, this can have many mental and physical health benefits.
Minnesota's Most-Trusted Assisted Living Services
We hope this guide helped you learn more about what to expect when looking for high-quality assisted living services for you or a loved one. At the end of the day, your loved one should have access to a safe and comfortable community that meets their health and social needs.
If you're looking for a trusted assisted living community in Minnesota, we invite you to tour Sunflower Communities. We have locations in Elmore and Nagel, MN, and we work hard to ensure we meet every requirement on this list and more so that your loved one can thrive! Reach out today to learn more about how we can help.