Is your loved one planning on moving into a nursing home or assisted living community? While the two are similar, nursing homes usually offer more advanced medical care, while assisted living allows for more independent living.
Regardless of the type of care community, the transition can prove difficult. It can be stressful for your loved one to leave their long-term home and move into an unfamiliar place. That's why we've put together this list of 7 items nursing home residents need to feel comfortable in the new environment. Take a look below!
What to Find Out Before You Pack
While each nursing home is different, licensed establishments need to adhere to their state's requirements. Additionally, care facilities certified by Medicare or Medicaid need to comply with federal regulations, which typically require that nursing homes provide:
A clean mattress

Appropriate-sized bed

Bedding

Clothing storage

At least one window in the room
Before moving in, find out what all is provided at the nursing home. It's likely that your loved one will be provided with bed linens, a television with cable, and WiFi. Ask if towels are included and if there will be a wall clock or refrigerator in the room.
7 Items Nursing Home Residents Need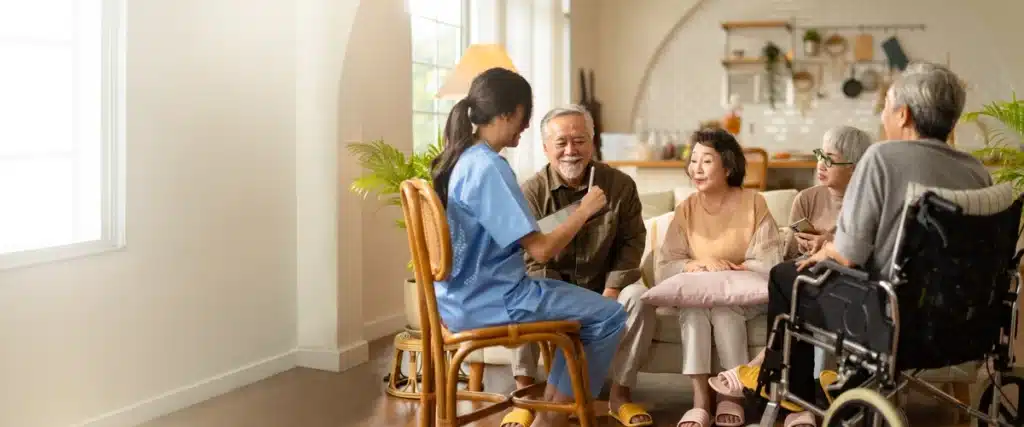 Once you've solidified what the nursing home will be providing, you can move forward with gathering what you need to bring. We've put together the seven main categories to consider for your nursing home packing list.
1) Clothing & Accessories
To start, help your loved one pack up their clothes. It's always good to have layering options, and your loved one may benefit from outfits being hung together. Check-in with the nursing home to learn how often laundry is done and if it's an included service. Usually, a couple of weeks worth of outfits and pajamas is good to pack.
Don't forget the accessories! Accessories help people show off their personal style, and it's very important for aging adults to maintain their individualism as they go through big life changes. If your loved one has some favorite jewelry, hats, bowties, or scarves, don't forget to bring those as well.
2) Favorite Blankets & Pillows
There's nothing quite like snuggling into your own bed at the end of a long day. Even though nursing homes provide beds and bedding, it's a good idea for your loved one to bring their favorite blankets or pillows from home. This can add an additional layer of comfort and familiarity that's invaluable when someone has just moved into a nursing home.
Stuffed animals are also great, and they're not just for kids! Any soft, comforting item that helps your loved one sleep each night is ideal to pack.
(Keep in mind that most nursing homes don't allow electric blankets, as they present a fire hazard.)
3) Familiar Personal Care Products
It's possible that the nursing home or assisted living facility you choose will provide personal care products such as:
Soap

Shampoo

Conditioner

Toothpaste
However, even if they're provided, it can still be nice to bring your loved one's favorite products. Having the familiarity of their go-to products can help their routine remain more consistent. Scent memory is also a wonderful thing to tap into, so having your loved one's go-to perfume, cologne, or body wash on hand can make the experience more comfortable.
4) Books & Music
Music is proven to help build cognitive function and influence healthy aging. Whether your loved one prefers to listen to their favorite genre of music on an MP3 player, smartphone, or CD player, be sure to pack the music, headphones, and a speaker so that they can enjoy it. Music helps fight anxiety and depression and is especially beneficial for adults experiencing memory decline.
Additionally, if your loved one is a reader, don't forget to pack their favorite books! If they're religious, be sure to include their preferred religious text.
5) Decorations From Home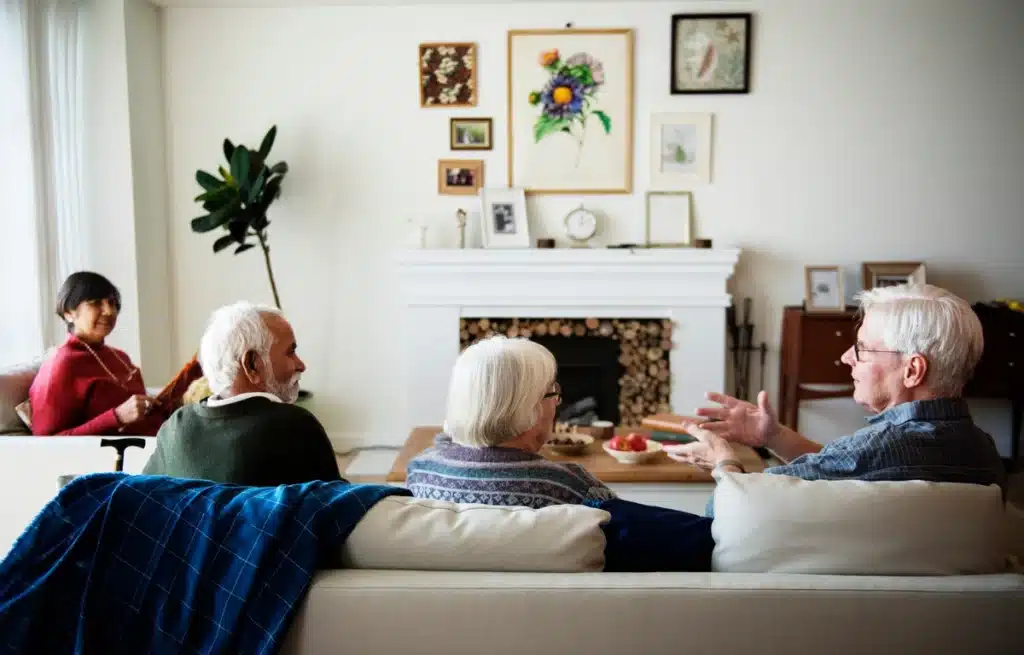 Most nursing homes don't provide many decorations in residents' rooms. This gives you the opportunity to bring decorations from home instead. These can include:
Family pictures

Wall art

Souvenirs

Holiday decorations
Decorating for the holidays can be a fun and enriching thing for family members to do together when visiting your loved one.
6) Hobby Supplies
At any stage of life, people often define their identity by the hobbies they enjoy. It's important that your loved one still has access to their beloved hobbies, even after they move into a nursing home or assisted living community. Some examples of hobby items include:
Adult coloring books

Craft & art supplies

Writing instruments

Board games

Crossword puzzles
Even though many assisted living communities offer enriching activities every day, it's still valuable for your loved one to have their personal hobby supplies in their room.
7) Sentimental Items
Last but not least on our list is sentimental items. Even though these items aren't as functional as other items, they carry immense value. The most common sentimental item to pack is a photo album of memories throughout your loved one's life. As long as the item isn't incredibly rare or fragile, you should encourage your loved one to pack it. Rare and fragile sentimental items are best kept at a family member's home, where they can be stored securely.
Helping You Through the Big Transitions
We hope this list helped you narrow down the essential items to pack for your loved one as they transition to a nursing home. If you're still looking for a high-quality, safe, and clean assisted living or memory care environment for your loved one in Minnesota, take a look at Sunflower Communities.
We'd love to show you around our communities with a free tour. Reach out today to learn more!