A dementia diagnosis is a blessing and a curse. It can answer a lot of questions regarding a loved one, but it can also mean a long road ahead. Part of that long road means finding the best memory care community for your family member.
Moving a parent with dementia into the right living setting can be a daunting process. Depending on their disease's severity, you may find yourself feeling very frustrated and scared and a slew of other emotions. But that's ok! You're not alone. 
We have some tips that may help you manage that transition of moving your parent with dementia into a new space that will help them and care for them the way they need— always remember that. Follow these tips to make the situation a little easier for everyone.
16 Tips for Moving A Parent with Dementia
These tips can ensure a successful transition to a new home environment, while also limiting the mental and emotional stress that can happen during such a change. The earlier you plan the better, so keep these tips handy before you even start your search— and you'll be on track.
1) Do Your Research!
You want to find the perfect place for your loved one. Doing extensive research can be daunting and overwhelming, but in the end, you'll be glad you covered all of your bases. To narrow things down, search first for those that offer memory care and primarily focus on dementia patients of all levels.
Second, look at visitation policies to ensure you can visit them when you want or need to. Some assisted living facilities will have different policies when it comes to visiting family members when they're new residents. Keep notes of any emails or phone calls you have with each location, so you have a well-detailed plan when you want to compare them and make a decision. 
2) Start The Conversation Early
Unfortunately, dementia worsens over time. So, if you want to have your parent in the conversation, or at least want them to transition easier, start that conversation about moving early on. The longer you wait, the more difficult it may be to make a smooth transition and explain what is happening. Plus, it's always better to plan ahead! Tips for starting the conversation include:
Take a gentle approach
Do not infantize your family member
Avoid interrogation
Explain in calm detail what the next step will be
Address your parent's concerns
In the later stages, a firm but gentle touch and a calm voice can help prevent upsetting your family member or patient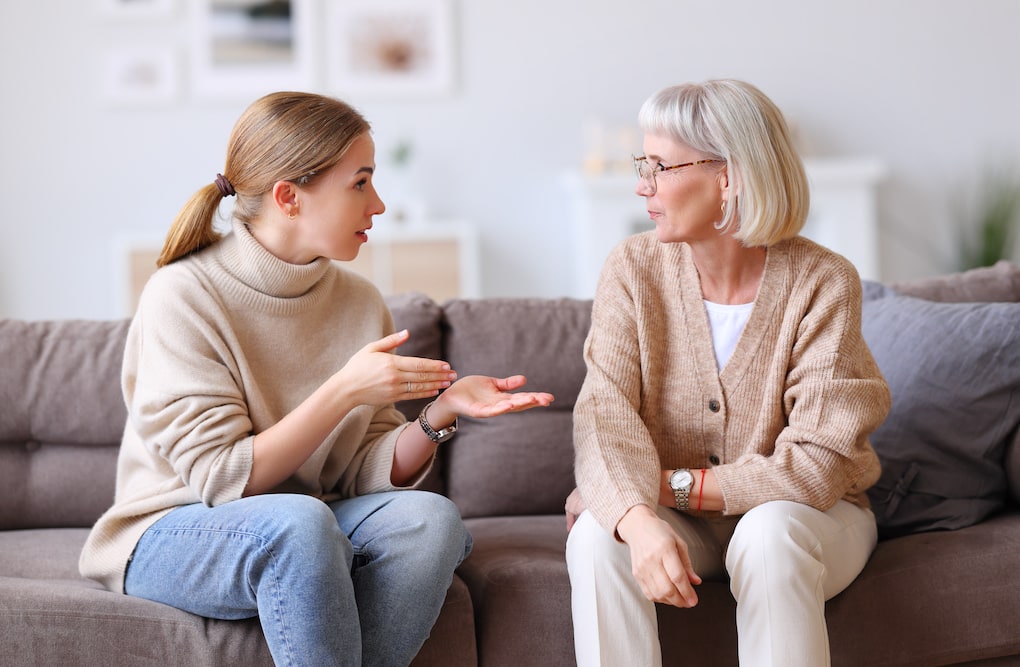 3) Know That This Transition Can be Difficult
This might be a tough time for everyone involved. Know that you're going to hit some snags, and any transition with anyone—but especially someone with dementia—can be challenging. But know that these care facilities are there to help guide you through, and it's ok to lean on them for support! While you can expect setbacks in the first few weeks, don't feel guilty and know this transition period will pass.
4) Look for Those Specializing in Memory Care
For your loved one with dementia, you may find it essential to find a place that makes memory care a special unit, and is a priority for them. The last thing you want is for your loved one to get lost in the shuffle of a nursing home that does not cater to their specific needs.
Memory care will not be at every location, so more than anything, make sure you look for a community that can care for your parent's current needs while allowing them to continue aging comfortably in place as their specific disease progresses.
5) Visit Together
If you can, bring your parent along to visit the locations. If you can introduce them early on to their potential new home, it can make moving that much easier. Your loved one's feelings might be hurt when you begin the moving process, but including them as much as possible (or as much as they are able) can help in the decision making and ease into this new apartment or new environment that will be in soon.
6) Attend Events on Your Own Beforehand
Before you ever decide on a place, ask if they will allow you to attend some of their activities so you can see if your parent will like it when they live there. Will your parent make new dining hall friends? How will the memory care center address your parent's safety? These are all great things to observe and ask about without them present.
7) Move During Their Best Time of Day
Those with dementia can be very sensitive to mood swings depending on the time of day. If they are experiencing sundowning, which means getting more aggressive and angry in the evenings, then try to do showings and the actual move during the afternoon before dark. Too early can also be a difficult time for those with dementia, so finding that sweet spot to move in their good time of day is essential. 
8) Fill Their Room with Their Favorite Things
Placing their favorite, familiar things around their new room can ease the transition. It should be a familiar space with the things they enjoy. Put their favorite pillow on their bed and their favorite pictures right in sight. 
9) Activity Box
Living in a small room can be a significant change if they are moving from a larger home with more space to do things. So ensuring they have something to do in their small room like a craft or puzzle can ward off feelings of loneliness or depression. Things to include in their activity box: 
Simple puzzles
Easy crafts
Picture books
Therapy stress balls
Small plush toys
Large print playing cards
10) Dolls and Stuffed Animals Can Help Loneliness
Adults with dementia can get quite lonely. But they've shown to be quite responsive to baby dolls or stuffed animals as little companions they can hold and snuggle with. 
11) Collages and Books with Family Members
Stretch your crafting muscles and make some collages or photo books with all of the family members in them. You can put pictures plus their name next to it to easily identify and remember their loved ones. They may even get a chance to brag about their beautiful families to their new neighbors. 
12) Downsize and Simplify Their Stuff
Don't bring too much stuff! Moving can be stressful enough without having more clutter. Keeping things simple, neat, and tidy can be critical to making sure the move is as stress-free as possible.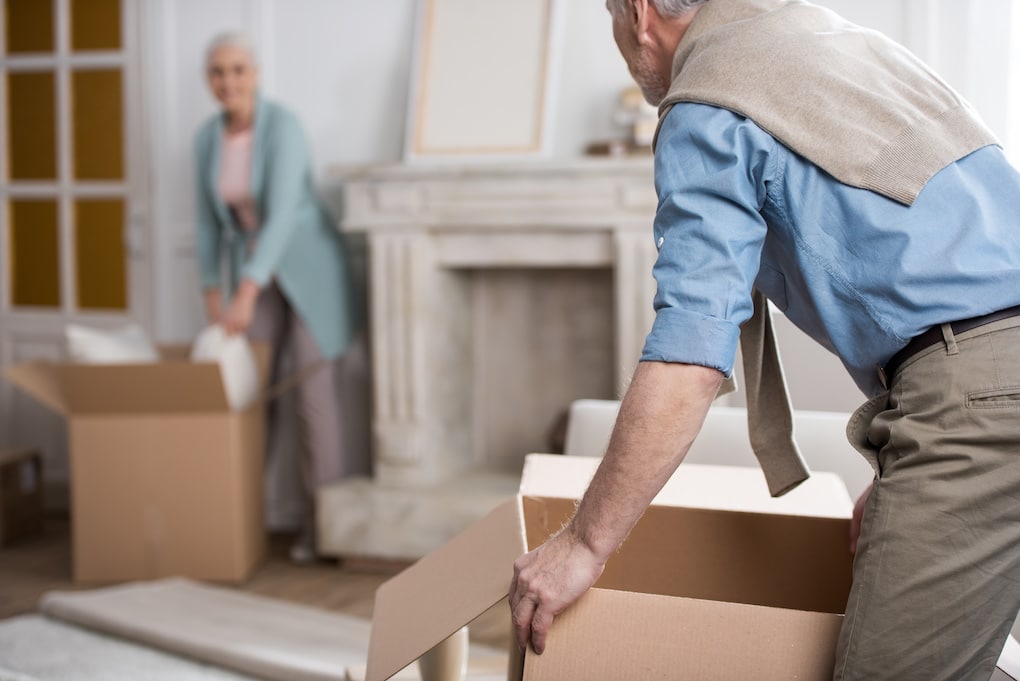 13) Work Closely With Their Existing and New Counselors
Don't think you need to do this all alone. If they move from one location to another, it can be beneficial to create seamless communication between their current nursing staff or counselors and their new staff. They can all work closely together to ensure all of their needs are being met, and the transition is as seamless as possible. 
14) Be Flexible (PTO, Scheduling the Move)
Around the time of the move, you and your family will want to be flexible and probably take the day off. You may hit any number of snags or delays, but it's vital that you can be there for your mom or dad during the transition. It may even be helpful to take a few days off so you can help them get unpacked and settled and visit for a few days while they acclimate. 
15) Give Them Reassurance and Plenty of Time to Settle
During that transitional period, you might get some pushback, and you may find your parent having a tough time. Change can be quite drastic for those who have dementia, and it's important to continue to reassure them (and yourself) and give them plenty of time. They will adjust eventually, but those first few days are going to be tough. 
16) Don't Feel Ashamed; It's for the Best.
Children of elderly parents sometimes struggle with feelings of regret and shame when they have to move their parents into a memory care facility. It's important to know that the care they will receive in that community is far superior to anything they could get in home care. They will get the therapy they need and activities and full-time attention. It's the best thing for them! You did the right thing.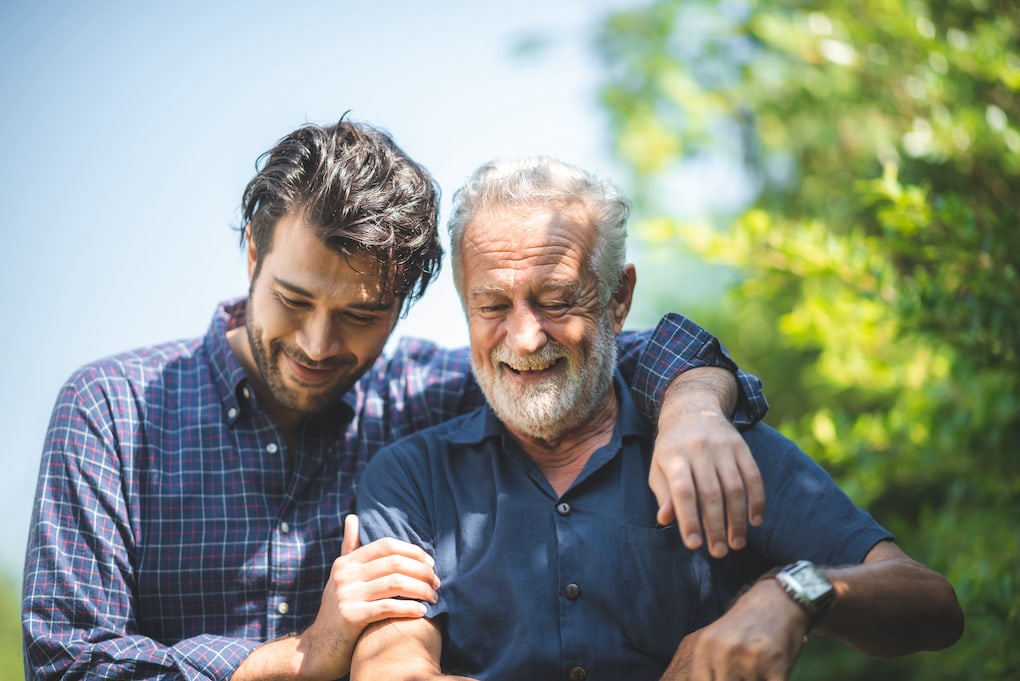 A Reputable Senior Community Can Help Ease the Transition
And last but not least, be patient and know any complicated feelings are temporary. Making a move to the right assisted living place is the first step to a long journey that will help alleviate your parent's difficulties with dementia. And trust us, if you follow these tips, you're going to eliminate a lot of stress and worry with the move. 
Know that if you move your parent into Sunflower Communities, they will be welcomed with open arms, comprehensive memory care services, and all of the therapies and activities they need to thrive. We can even provide furnished rooms to make the move even easier for everyone. Contact us here to get started!